Thawte code Signing certificate
Software massive downloads help digital virus to spread.
To protect webusers, software developers have to be known.
Digital certificates developed by Microsoft and Sun enable developers to sign their work.
When a webuser's downloding a software, a dialogue box appears that gives information about the developer.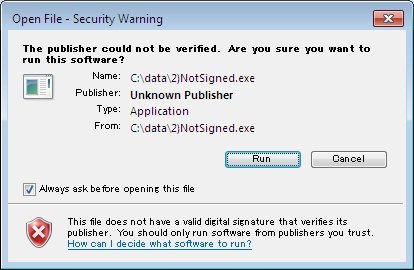 Unknown developer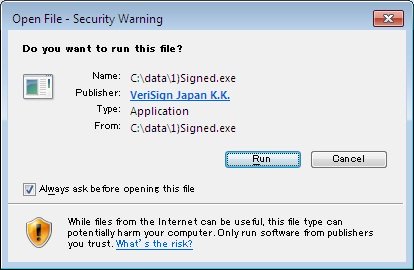 Known developer
That way he can decide to download the application or not.That kind of certificate is issued by Thawte.
Thawte code signing certificates
Thawte Code Signing
buy
Price
£138
Encipherment
-
Certificate lifetime
1 to 3 yrs
Average delevery time

(1)

3 business days
Warranty
Free reissue

(2)

Money back guarantee
-
Thawte Code Signing

Thawte Code Signing

Unlimited number of signables components
Lifetime: 1 to 3 years
Standards: X509v3, Microsoft Authenticode, JDK (java), Adobe Air, Netscape Code Signing
Free lifetime reissuance
Delivered within 4 business days
(1): Indicative delivery times that can be impacted by occasional disruptions. Consult the up-to-date situation of each supplier.
(2): Within the limit of 6 reissuances.
Other information
Extra technical information
Thawte's code signing certificates that are available are listed below. If you don't know wich technology to use, please read the "technical details" page.
Microsoft Authenticode or Office or VBA (usable to sign Silverlight files (.XAP))
JDK Dev 1.3 or more recent version
Apple code signing
Adobe Air
Microsoft Word, Excel and PowerPoint macros
According to the editors, you have to use a certificate per technology or client. There's a tip for limiting the number of code signing certificates purchase. See the links below.
Useful links
---
TRUSTED SITE SEAL